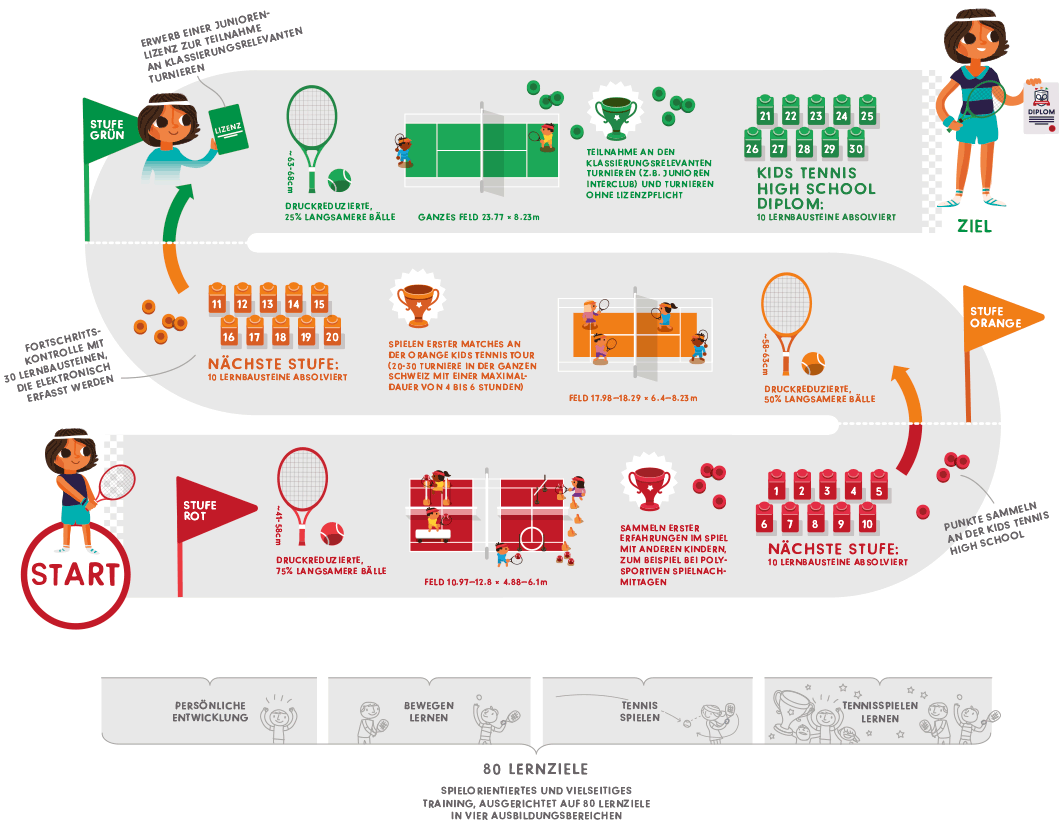 Grundlagen Training für Kids bis 10 Jahre
Im Mittelpunkt stehen Kids im Alter von 4-10 Jahren.
Für die Allerjüngsten gilt es optimale Trainings- und Spielmöglichkeiten zu schaffen und dabei jede Menge Spass zu haben.
Im Vordergrund stehen dabei ein spielerischer Einstieg in den Tennissport und eine poly-sportive Ausbildung, welche die Kids ganzheitlich fördert.Trainiert wird dabei in kleinen Gruppen von 2-5 Kids
Trainingsziele:
Koordination in spielerischer Form trainieren
Kindgerechte Trainingsmaterialien (Mini-Tennis-Netze, Langsamere Bälle)
Erlernen der grundlegenden Schlagarten – die Beherrschung von Ball und Schläger stehen dabei im Vordergrund
Polysportive Ausbildung
Die Hälfte der Trainingszeit sind besteht aus "Tennistraining, die andere
Hälfte wird den koordinativen und konditionellen Fähigkeiten gewidmet
Entwicklung eines Teamgeistes in der Trainingsgruppe
2 bis 3 Trainingseinheiten pro Woche
Basic training for kids up to the age of 10
In the center of action are kids between 4 and 10. There are optimum training and playing options for the little ones where fun has priority.
Focus is set on a playful introduction to the world of tennis as well as a poly sportive education which brings the kids forward holistically.
The training sessions are held in small groups of 2-5.
Training Goals:
Train coordination in a playful way
Child-appropriate training equipment (mini tennis net, slower balls)
Learning the basic shots – control of ball and racket is the main goal
Poly sportive education
The first half of the training session contains of tennis, the focus of other half is set on coordination and conditional ability
Development of team spirit within the group
2 to 3 training sessions per week